6 Glass-Paned Door Styles to Enhance Your Entryway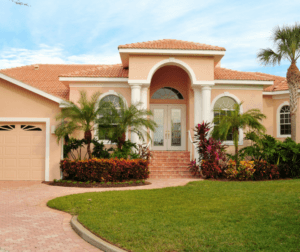 The front door sets the stage for each visitor's impression of your home. The front door is also an integral aspect of your house's curb appeal. Indeed, replacing your front door is a relatively easy way to give a boost to both.
Many homeowners have been leaning toward entry doors with glass panes to present a unique appeal. Below are six styles you can consider.
1. Glass French Doors
French doors carry an air of sophistication. They're also eminently practical because of the increased width of the entryway. French entry doors can be either solid wood or predominantly glass. Consider the latter if you want to open up the façade of your house.
If the hanging of a new front door is part of an entryway makeover, consider a transom window and sidelights. The addition of those windows extends the amount of glass, increasing the visual impact it makes.
2. Mod Stack of Panes
The modern style features two characteristics that work well for front doors — an emphasis on shape and preference for manufactured materials. Glass is a manufactured material, so it fits well with the mod aesthetic.
Concerning shape, naturally doors are rectangular. You want glass panes that emphasize that geometry. To that end, consider a vertical stack of glass panes. You could opt for a stack of squares or narrow rectangles. The grouping of glass panes emphasizes the height of the door's rectangle, giving it a modern appeal.
3. Frosted Glass Panel
Glass is usually transparent, but not all homeowners want passersby to be able to see inside their front door, especially if the entryway is located near the sidewalk. So, you could opt for an opaque style of glass instead — frosted.
A door with a big, frosted glass panel is very attractive. Indeed, it can be warm and inviting while still protecting your privacy. For that effect, choose a warm-hued wood. You can also choose frosted glass sidelights in the same style to further enhance the visual impact of your entryway.
4. Craftsman Door with a Twist
The Craftsman style features an emphasis on workmanship, usually through the detailing of the woodworking craft. Such doors often feature carved panels. Glass panes are common with Craftsman doors. You even see leaded glass sometimes.
If you want your front door to make a statement, consider adding a twist to the classic Craftsman model — color. Craftsman doors are often naturally stained. However, you could choose a bright color such as green, aquamarine, or red. Even a subtle color, such as eggplant or forest green, will make your Craftsman door stand out.
5. Classic Grid
Perhaps you don't want to make too strong of a statement with your front door. You might want it to just enhance the rest of your house's façade. You can achieve that goal with a classic glass-paned front door that features a grid muntin. Such a door style complements almost any exterior.
Such doors are usually accompanied with sidelights, which also feature multiple panes of glass. You often also see a semi-circle transom window above. Again, the transom features muntins to keep the look cohesive. Rather than a grid, the fan style is more common with semi-circle transoms.
6. Mediterranean Arched French Doors
Sometimes you just want a fancy front door. If that's you, consider the classic arched French door. These doors are doubled-up just like the standard French doors, but they create a single arch at the top. This style of French door is ideal for any Mediterranean façade.
The way to kick up the fanciness factor is with a door grid. Arched French doors can be solid wood or feature the single panes — you want the latter because you're going to use the glass as the backdrop to the grid. Door grids come in many pattern styles ranging from simple to ornate. Choose the one that best suits you and your house's façade.
Give your house's façade an instant boost with a new front door. Arch Design has a wide collection of entry doors that can enhance the appearance of your home.