Your Basement Remodel: What About the Windows?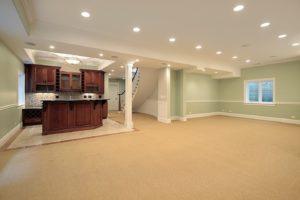 A basement remodel or renovation is a terrific way to transform a damp and dark space primarily used for storage into a useful living area, such as a recreation room, a home office, or a guest room. One thing to think about carefully before starting the project are the basement windows. Here is a closer look at this important home improvement topic.
Perfect Time for Window Replacement
Windows in unfinished basements are usually small and basic. In many instances, the windows do not let much light into the space, which gives the area a gloomy and somewhat depressing character. A basement remodel, however, is the perfect time to upgrade your basement and bring more sunshine and brightness into your new living space.
Of course, in some cases, you might not want to replace every basement window, just some of them. Check all of the windows in the space carefully. Any windows that are difficult to open and shut, that have decaying wood around the window frame, or that allow drafts to enter the basement are prime candidates for replacement.
Types of Windows
You have the choice of several types of windows to replace the ones you want to upgrade.
Casement
A popular window choice for finished basements is the casement window. A casement window opens and closes by means of a hinge attached to the frame. The hinge is placed on either side and typically opens by means of a handle or crank.
Hopper
A different type of casement window is called a hopper. A hopper window has the same characteristics as the standard casement window, except that the hinge is at the bottom of the window rather than at the side.
Awning
Another frequently-seen variation on the casement window is the awning window, which has a hinge located at the top.
Sliding
An additional common choice for remodeled basements is the sliding window, which does not open outward or inward as a casement window does, but has sashes that slide open horizontally. Sliding windows typically are smaller than casement windows, so they make a good option if you have limited space for a replacement window.
Double-Hung
A double-hung window is somewhat similar to a sliding window in that it has two sashes that slide past each other. The sashes of a double-hung window, however, open and close vertically rather than horizontally.
Egress
One special type of window that you might need to install during the remodel is an egress window. Local building codes often require that finished basements with bedrooms have a large window where people in in the basement can escape in case of a fire. Another purpose of an egress window is to allow emergency personnel access to the home.
The International Building Code, which many local building authorities follow, sets certain standards for egress windows. For instance, the window must have a free and clear area of at least 5.7 square feet when the window is open to allow people to move through.
When the window is open, the height of the opening must be at least 24 inches, while the opening's width must be at least 20 inches. Also, the bottom of an open egress window cannot be higher than 44 inches from the floor, according to the code. In some areas, local codes have requirements that are even stricter, so check with your local building office.
Replacing basement windows is a complex task that requires expert help from trained professionals such as the experienced specialists at Arch Design Window & Door Co. We can meet all of your window needs. Contact us for more information on basement windows.